Our Water.
Ours to Enjoy and Conserve.
Safe, Clean And Dependable Water Supply For The Community
Citrus Heights Water District's main source of surface water is Folsom Lake. The US Bureau of Reclamation controls the Folsom Lake water supply. The water is treated by the San Juan Water District and provided to CHWD and other water agencies.
Groundwater from CHWD's six wells is used to supplement the Folsom Lake surface water supply for customers. Even with these water sources, it is important to conserve water as the ever-increasing need for water in our region and throughout California will continue to place demands on both surface and groundwater supplies. Water use efficiency and conservation are keys to meeting future demands.
Total annual water consumption by CHWD customers peaked in 1999 at 23,000 acre-feet. Since then, it has ranged from a high of about 21,100 acre-feet to a low of about 9,900 acre-feet.
The five-year average annual water use for CHWD customers is 11,633 acre-feet. That is about half of an acre-foot of water per service connection. An acre-foot of water equals 325,829 gallons of water per service connection.
Even with our area's growth in population and services, water use has stabilized and declined in recent years–the result of more efficient water use by our customers.
Where Our Water
Comes From
Today, we turn on the faucet and expect clean, cool water to come streaming out, but it wasn't always this easy. The extensive underground water transmission and distribution systems have followed a long road to get where they are today. A series of bond elections, water supply purchases, acquisitions of water rights and facilities and contracts with the U.S. Bureau of Reclamation all play a part in how you receive your water today.
In 1921, the then-named Citrus Heights Irrigation District had been in existence for only one year when it leased the existing pipe system of the Citrus Heights Water Takers Association. In July 1921, a $262,000 bond for the construction of additional pipe facilities was approved by an 89-1 vote. Resulting bids for this construction considered the use of redwood, fir and steel pipes, with soil-proofed steel pipe being the approved choice.
Water was initially delivered to the District via a 24-inch pipeline in Oak Avenue with additional water being delivered on an interim basis through the Fair Oaks Irrigation District system.
The District's water supply was purchased from the North Fork Ditch Company with diversion of American River water near Auburn.
Water supply availability and water conservation was as much a concern to the new District as it is today. In 1924 water supplies were limited by the North Fork Ditch Company. As early as 1926, the Board of Directors engaged in discussions regarding placing water meters on small tracts of land.
In January of 1927, L.K. Jordan, manager of the North Fork Ditch Company made a presentation to the Board of Directors and urged that users irrigate at night to balance the flow throughout day and night during the peak irrigation season.
More than half of the water CHWD serves its customers originates in the Sierra Nevada Mountains before it reaches our customers' faucets. Water from the American River flows into Folsom Lake before it is treated by San Juan Water District, CHWD's wholesale water provider. Lastly, treated water travels through miles of pipeline operated and maintained by CHWD into your home.
To supplement surface water from Folsom Lake, CHWD also owns and operates four active groundwater wells and two additional reserve wells to ensure a consistent source of water supply to our customers.
Additional Pipelines
and the Installation of Water Meters
Citing the need for additional water delivery capacity to provide for the requirements of a growing District, coupled with the outdated main water delivery pipeline along Oak Avenue that was over 30 years old, a 1956 bond issue for $750,000 was approved by a vote of 516-25 for construction of the District's 42-inch transmission pipeline. This pipeline's construction was completed in 1958 and remains in service today as one of the District's primary surface water delivery facilities.
In 1992 the U.S. Congress passed the Central Valley Project Improvement Act requiring all water agencies receiving federal water to install water meters on all customer accounts. Initially, the District had until 2005 to complete the installation of meters on all service connections. An extension was granted to January 1, 2008. The District began its meter retrofit efforts in 1998 with the older non-metered commercial accounts and then tackled the governmental and institutional accounts (schools, parks, and a cemetery) followed by multi-family apartments and mobile home parks. By far, the most challenging and costly part of the water meter retrofit program was installing water meters for the District's single-family residential customers (more than 19,980 at that time). This effort was completed in 2007, and on January 1, 2008, the District converted virtually all customers to metered water consumption billing.
San Juan Water District
Cooperative Transmission Pipeline
In 1995 construction of the San Juan Water District Cooperative Transmission Pipeline began. This $32 million 78-inch and 72-inch pipeline project contains water transmission capacity for five area water agencies. It begins at the San Juan Water District treatment plant and storage reservoir near Folsom Dam and ends at C-Bar-C Park on Oak Avenue. This pipeline provides a much-needed alternate source of high-volume water delivery to the District plus capacity for growth. The District purchased approximately 26% of the capacity in this pipeline at a cost of $5.6 million.
Folsom is a relatively small reservoir with very high refill potential; its watershed is roughly three times its size. In other words, in a normal year, the Bureau of Reclamation cycles through enough water to fill Folsom 2-3 times.
Citrus Heights Water District does not control releases from Folsom Reservoir. There is a federal and local agreed upon amount of water Folsom should hold during the rainy months, from the end of November through the end of February, to save room for large Sierra runoff.
The goal is to strike a balance with multiple purposes without compromising public safety and the protection of property downstream. The US Bureau of Reclamation considers these agreements, along with other operational demands, as well as the latest forecast/current conditions to help inform its release decisions.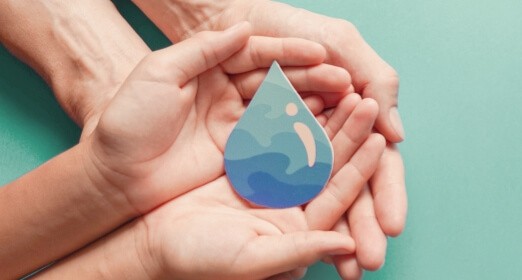 Citrus Heights Water District provides water to approximately 70,000 customers in portions of Citrus Heights, Fair Oaks, Orangevale, Carmichael, and Roseville. Through this helpful link, you can find and confirm your water provider, searching by geographic area or your own address.
We are fortunate that the American River is a good, clean source for our local water supplies. CHWD's drinking water is tested thousands of times over the course of the year to ensure a safe supply at all times.
The following documents guide our operations consistent with our mission to furnish a dependable supply of safe, quality water delivered to its customers in an efficient, responsive, and affordable manner.
Most of CHWD's water comes from Folsom Lake. The water is filtered and treated to meet or exceed all State and Federal standards before it is delivered to customers. The District also provides water from local wells located within its service area. Read more at Where Our Water Comes From.
The Citrus Heights Water District (CHWD) Operations Department operates, maintains and repairs the water distribution system that delivers water to customers in CHWD's service area. This system of 271 miles of underground pipes and thousands of valves and fire hydrants is continually maintained to ensure reliable service of high-quality drinking water to more than 19,500 service connections. If you have any questions or concerns about your water quality or service, please contact CHWD at (916) 725-6873.
Water is piped to customers through mains measuring up to 42 inches in diameter. Most streets have much smaller mains measuring 8 inches in diameter. As the water flows through these mains, outlets are provided for customer taps and fire hydrants.
Customer taps are usually 2 inches or smaller and provide water to the customer through service lines. Water meters are positioned at the connection point between the District's service lines and the customers' service lines. Most customer service lines are connected to the exterior of the home on the front wall. The connection point is usually identified by the water control valve that is placed just below a hose bib. Occasionally, customers will experience changes in the pressure, taste, odor, or appearance of their water that may be a sign of problems. These changes are often a result of problems with the customer's own plumbing system. These are problems that CHWD cannot remedy because they are not a part of CHWD's water distribution system. 
CHWD's water system pressure is regularly between 80 and 100 pounds per square inch (psi). Occasionally, a customer will experience low water pressure at one or more fixtures, or throughout their home. Low water pressure can occur for one or more reasons.
If a customer experiences low pressure at one or more fixtures, but water pressure is normal in other fixtures in the home, it is usually caused by plugged fixture screens, which can be easily rinsed out by the customer. If the problem returns due to sediment buildup, it may be an indication that the water heater needs flushing. See "Flushing a Water Heater" below.
If there is low water pressure throughout the home, this typically indicates the flow is being restricted by a partially closed control valve. This valve is usually located on the front exterior of the house just below the hose bib. If this valve is fully open, and you continue to experience low water pressure, call the District at (916) 725-6873 for further assistance. District personnel will measure the pressure with a gauge and help you with the problem.
Some customer homes have water pressure regulators. If the regulator is not maintained, it can cause low-pressure problems. Annual maintenance by a plumber is suggested.
If a customer wants to lower their water pressure, a plumber can install a pressure regulator on the inlet piping to their home. CHWD orders a rebate for these devices. 
Water odor is frequently caused by a lack of maintenance to the water heater. See "Flushing a Water Heater" below. If you continue to experience water odor after water heater maintenance has been performed, call the District at (916) 725-6873 for further assistance.
A customer's cold water may have discoloration from time to time. This could be caused by rust that was temporarily stirred up in the District's main lines. Running outdoor sprinklers for five minutes often clears up the problem. If you continue to experience water discoloration after running sprinklers or an outside faucet for five minutes, call the District at (916) 725-6873 for assistance.
If the discoloration is in the hot water, the customer may need to flush the water heater. See "Flushing Water Heater" below.
If only one faucet stops working, it could be due to sediment plugging the faucet. The customer can rinse the screen, which usually restores operation. Screen plugging is a symptom of water heater sediment build up, indicating the need to flush the water heater. See "Flushing Water Heater" below.
Water flow to the customer's home may stop for several reasons:
District crews may have temporarily turned the main off for repairs. All customers will be notified of planned shutdowns unless an emergency situation requires immediate action.
Someone has accidentally turned the water control valve off on the front of the house.
District personnel have turned the service off for non-payment.
If water flow to your home stops and you are unable to determine the reason, call the District at (916) 725-6873 for further assistance.
Most water heaters require five to ten minutes of flushing once a year. Flushing of the water heater is encouraged to prevent color and odor problems, as well as sediment build up. Flushing also improves the efficiency of the water heater, which can mean lower energy bills for the customer.
How to Flush a Water Heater:
Most water heaters have a faucet located near the bottom of the unit.
A standard garden hose should be threaded onto the faucet.
The open outlet of the hose should be routed to a convenient location such as a bathtub, work sink, flower garden or lawn.
Once the hose is properly positioned, the faucet can be opened.
For maximum effectiveness, the valve should be in the fully open position.
Flushing should continue until the water flow is cool.

SIGN UP FOR ONLINE BILL PAY TODAY!